Rep. Scott Statement on House Farm Bill
Legislation fails to pass by a vote of 198 to 213.
WASHINGTON, D.C. – Today, Congressman Austin Scott (GA-08) released the following statement upon the Agriculture and Nutrition Act of 2018 (H.R. 2), also known as the "Farm Bill," failing the House of Representatives by a vote of 198 to 213:
"Unfortunately, thirty Republicans voted with Nancy Pelosi and 100% of the Democrats in the House to protect the current SNAP program and shield recipients from work requirements. Their actions have not only inhibited the upward mobility of millions of Americans, but they have also abandoned rural America and critical modernization of our farm policy which those who put food on the table of every household in America desperately need," said Rep. Scott.
Earlier this week, Rep. Scott spoke on the House Floor urging his colleagues to support the measure. You can click here to watch his remarks.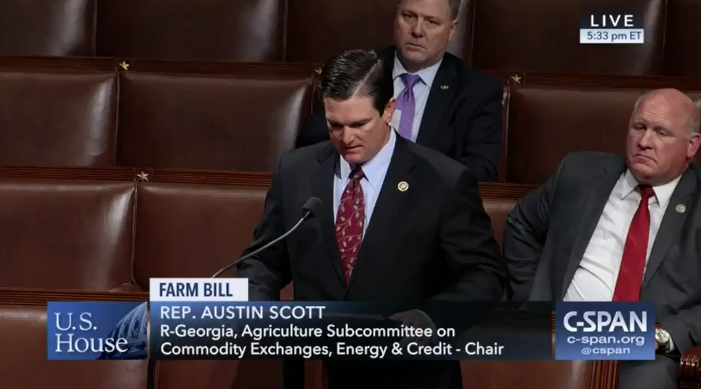 Below are Rep. Scott's remarks as prepared:
"Mr. Speaker, I rise today to urge support for H.R. 2, the Agriculture and Nutrition Act of 2018, also known as the Farm Bill.
"Rural America needs our support:
"Farm income has fallen 52 percent since 2013, one of the steepest drops since the Great Depression;
"Costs of production have steadily climbed, while commodity prices have fallen;
"Trade disputes and the dumping of commodities like those from Mexico are hurting our producers;
"The Digital Divide caused by inadequate or a lack of broadband service has held back innovation, job growth and education in rural America; and
"Crises like the opioid epidemic have stricken communities across America.
"Mr. Speaker, the Farm Bill addresses all of these challenges, while also taking the first major step in this Congress toward the President's vision of meaningful welfare reform.
"This is our opportunity to provide the needed certainty and support to our farmers and producers, while also providing commonsense reforms that will support the President's agenda of achieving prosperity in our rural communities.
"Passing a strong farm bill on time is the key to this goal.
"I ask that my colleagues join me to support this important piece of legislation, and oppose any amendments that will hinder its ability to aid rural America.
"We need to provide certainty to rural America's largest job sector while also standing for our conservative principles.
"Mr. Speaker, I ask my colleagues to join me in supporting the Agriculture and Nutrition Act of 2018: Farm Bill."
-30-