Rep. Austin Scott Named Negotiator for Defense Bill
Rep. Scott chosen to negotiate the final version of the Fiscal Year 2021 National Defense Authorization Act
WASHINGTON, DC – Today, Congressman Austin Scott (GA-08), a senior Member of the House Armed Services Committee (HASC), was chosen to serve on a conference committee for the House and Senate versions of the Fiscal Year 2021 National Defense Authorization Act (FY21 NDAA), which will work through differences in the House and Senate versions of FY21 NDAA.
This morning, the conference committee held their first meeting to outline each Chamber's priorities for the final legislation. During the virtual event, Rep. Scott stressed the importance of continuing to support current systems which provide battle-proven capabilities around the world, like the E-8C Joint Surveillance Target Attack Radar System (JSTARS) and the A-10C Warthog, until there are systems in place which exceed the capabilities that these systems provide to the warfighter. Following today's announcement and the committee's first meeting, Rep. Scott released the following statement:
"I'm very honored to be chosen to serve on the FY21 NDAA Conference Committee. While the House's FY21 NDAA wasn't perfect, I believe we were able to accomplish many goals important to Georgia and the nation, including new investments in systems and platforms across the Department of Defense and a 3% pay raise for our troops. Over the coming weeks, I look forward to hammering out a final piece of legislation that meets the unique challenges we face in securing freedom and keeping Americans safe," said Rep. Austin Scott.
"Throughout his time serving his constituents in Georgia's 8th district, Austin has distinguished himself as a selfless leader who holds true to conservative principles and understands the importance of a strong and capable military. That is why he was hand-picked to serve as a conferee on this year's NDAA. His entrepreneurial expertise and work in risk management will help navigate the most important piece of legislation Congress takes on - the defense bill that supports our service members and keeps our military strong. With Austin on the team, I know we will have an outcome worthy of our incredible service members," said House Republican Leader Kevin McCarthy (CA-23).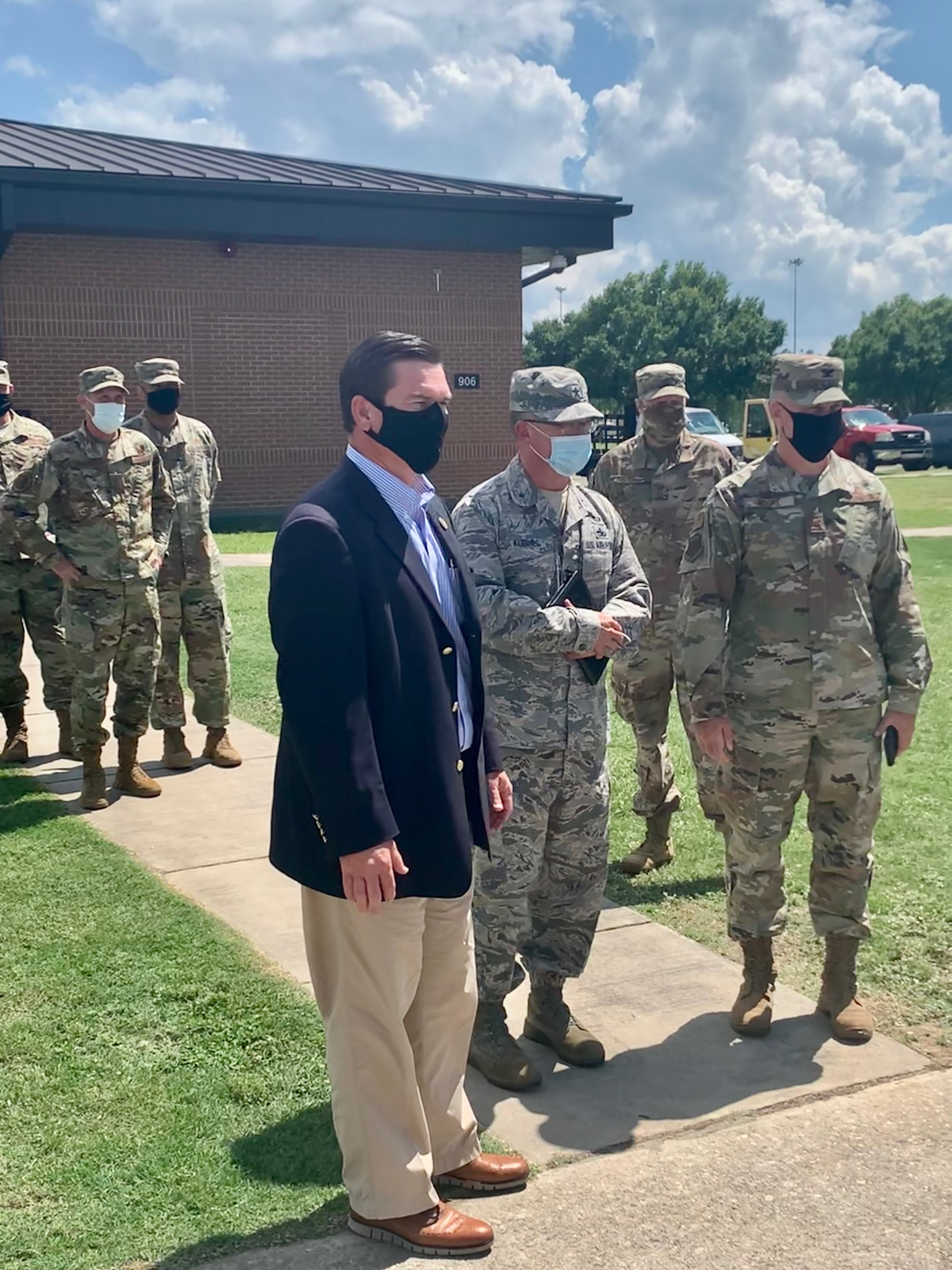 Rep. Scott receiving an update on COVID-19 response from leadership at Robins Air Force Base in Warner Robins, Georgia, earlier this year. Rep. Scott has focused on ensuring our military remains equipped to combat COVID-19 while carrying out their important missions.
The following Members of HASC were named to serve on the House-Senate Conference Committee:
Ranking Member Mac Thornberry (TX-13)
Ranking Member Mike Rogers (AL-03)
Rep. Joe Wilson (SC-02)
Rep. Mike Turner (OH-10)
Rep. Doug Lamborn (CO-05)
Rep. Rob Wittman (VA-01)
Rep. Austin Scott (GA-08)
Rep. Vicky Hartzler (MO-04)
Rep. Elise Stefanik (NY-21)
Rep. Trent Kelly (MS-01)
Rep. Mike Gallagher (WI-08)
Rep. Don Bacon (NE-02)
Rep. Jim Banks (IN-03)
The following Members were named to serve on the House-Senate Conference Committee as outside conferees:
Rep. Mike Conaway (TX-11), House Committee on Agriculture
Rep. Chris Stewart (UT-02), House Committee on the Budget
Rep. Brett Guthrie (KY-02), House Committee on Education and Labor
Rep. Greg Walden (OR-02), House Committee on Energy and Commerce
Rep. Blaine Luetkemeyer (MO-03), House Committee on Financial Services
Rep. Michael McCaul (TX-10), House Committee on Foreign Affairs
Rep. Mark Green (TN-07), House Committee on Homeland Security
Rep. Rodney Davis (IL-13), House Committee on Administration
Rep. Devin Nunes (CA-22), Permanent Select Committee on Intelligence
Rep. Greg Steube (FL-17), House Committee on the Judiciary
Rep. Rob Bishop (UT-01), House Committee on Natural Resources
Rep. James Comer (KY-01), House Committee on Oversight and Reform
Rep. Mike Garcia (CA-25), House Committee on Science, Space, and Technology
Rep. Steve Chabot (OH-01), House Committee on Small Business
Rep. Bob Gibbs (OH-07), House Committee on Transportation and Infrastructure
Rep. Gus Bilirakis (FL-12), House Committee on Veterans' Affairs
Rep. Brad Wenstrup (OH-02), House Committee on Ways and Means
-30-