Rep. Austin Scott Leads Special Order Honoring the Legislative Legacy of U.S. Senator Johnny Isakson
WASHINGTON, DC – This afternoon, Congressman Austin Scott (GA-08) hosted a Special Order on the Floor of the U.S. House of Representatives honoring the legislative legacy of U.S. Senator Johnny Isakson (R-GA).
On August 28, Sen. Isakson announced he would be resigning from the U.S. Senate at the end of 2019. Sen. Isakson has served in the U.S. Senate since 2005, having served in the U.S. House of Representatives from 1999-2004.
Sen. Isakson is the only elected official from Georgia to have served in the Georgia House, the Georgia Senate, the U.S. House and the U.S. Senate.
Participating in today's Special Order were U.S. Representatives John Lewis (D-GA-05), Sanford Bishop (D-GA-02), Tom Graves (R-GA-14), Rob Woodall (R-GA-07), Doug Collins (R-GA-09), Rick Allen (R-GA-12), Buddy Carter (R-GA-01), Jody Hice (R-GA-10), Barry Loudermilk (R-GA-11), Drew Ferguson (R-GA-03), and Lucy McBath (D-GA-06). 
Click here to watch Rep. Scott's remarks on Sen. Isakson's legislative legacy.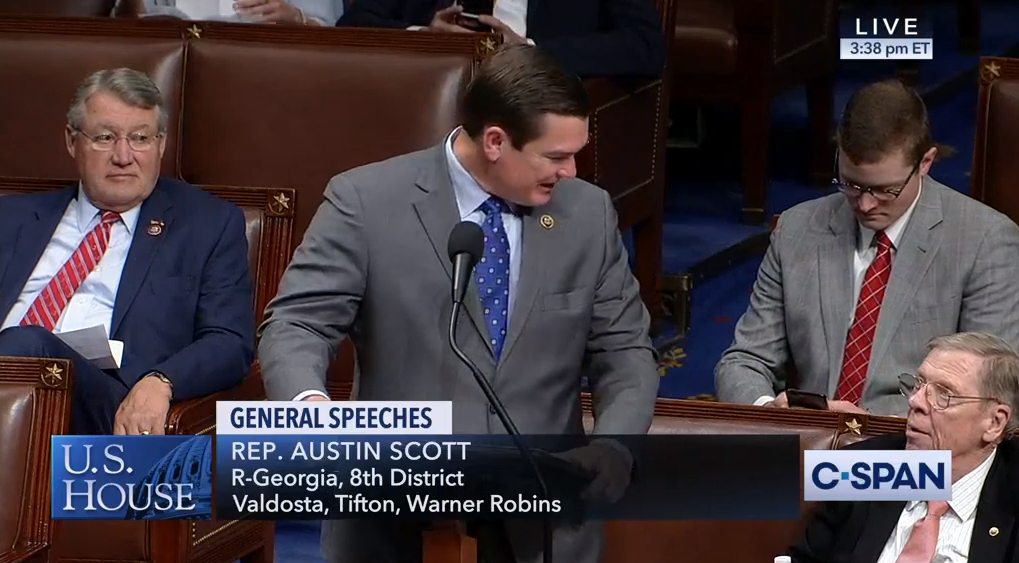 Click here to watch the full Special Order.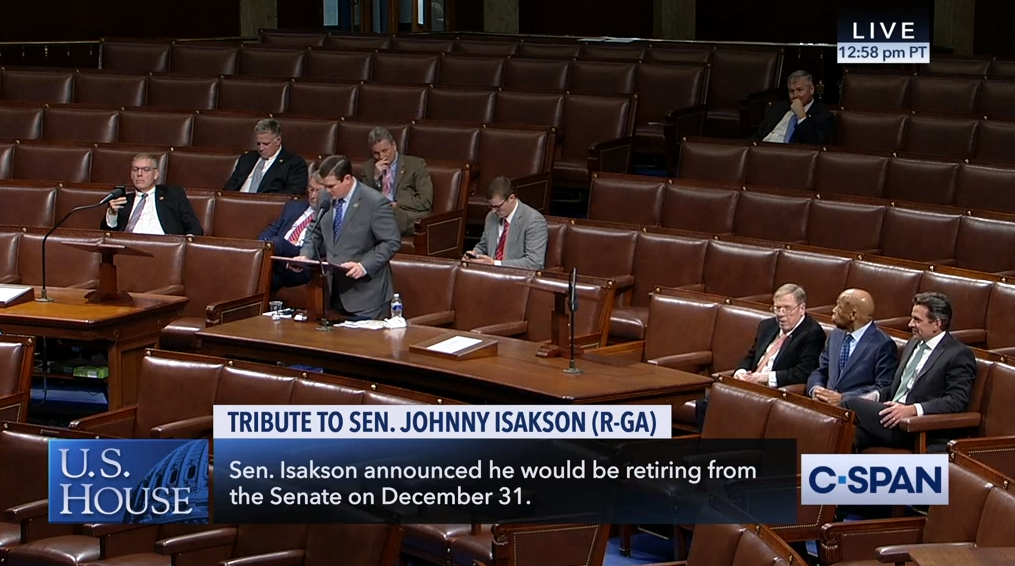 Below are Rep. Scott's remarks as prepared:
"Mr. Speaker, I rise today to honor the legislative legacy of my good friend, colleague, and fellow Georgia Bulldog, U.S. Senator Johnny Isakson.
"For more than 20 years, Sen. Isakson has served the people of Georgia in the United States Congress, tirelessly fighting for the people of Georgia.
"During his tenure, Sen. Isakson has been a bellwether for many in our delegation both as a member of this body and as a United States Senator.
"If I have heard it once, I have heard it a thousand times: 'Where is Johnny on this?' 'What does Johnny think about this?' 'Have you spoken to Johnny on this?'
"He has offered counsel learned through his 40 years of public service that is invaluable to me and many of my colleagues in the Georgia delegation.
"When I'm back home, I constantly tell people of the respect our delegation has in both the House and the Senate; of our sense of bipartisanship and working across the aisle for the good of all Georgians.
"Sen. Isakson has played a key role in building and maintaining this high reputation, and I look forward to that special tradition continuing in the coming legislative sessions.
"Public service is much more than just the service of the Member, it is also the service of the family.
"Sen. Isakson, to your children and wonderful wife, Dianne: We extend our thanks for their commitment to serving Georgia and their support to our delegation and fellow delegation family members.
"Their positive impact cannot be understated, and we look forward to you enjoying more time with Dianne and your entire family as you enter your next chapter.
"For decades, Sen. Isakson has faithfully served our state, and his character, godliness, and statesmanship will be greatly missed in Washington.
"His faithful service to the great state of Georgia is second only to our beloved mascot, Uga.
"He is a giant among men, dedicated and deliberate, and it has been an honor to work alongside him fighting for the good people of Georgia.
"With that, I yield to my colleagues."
-30-