Rep. Austin Scott Honors Eighth District Military Service Academy Appointees
Eight students from the Eighth Congressional District appointed to U.S. Military Service Academies
WARNER ROBINS, GA – This week, U.S. Congressman Austin Scott (GA-08) honored eight young men and women who have earned appointments to U.S. Military Service Academies at a ceremony in Warner Robins, GA. Following the ceremony, Rep. Scott released the following statement:
"Being appointed to a service academy is a real honor, and I congratulate these students for the exceptional hard work they have done to be nominated and now appointed to an academy," said Rep. Scott. "These young folks join a population of very few, yet talented men and women who have answered the call to serve our nation, and I thank them for their service to our country. I look forward to seeing the continued growth and success of these future leaders as they begin their studies in the fall."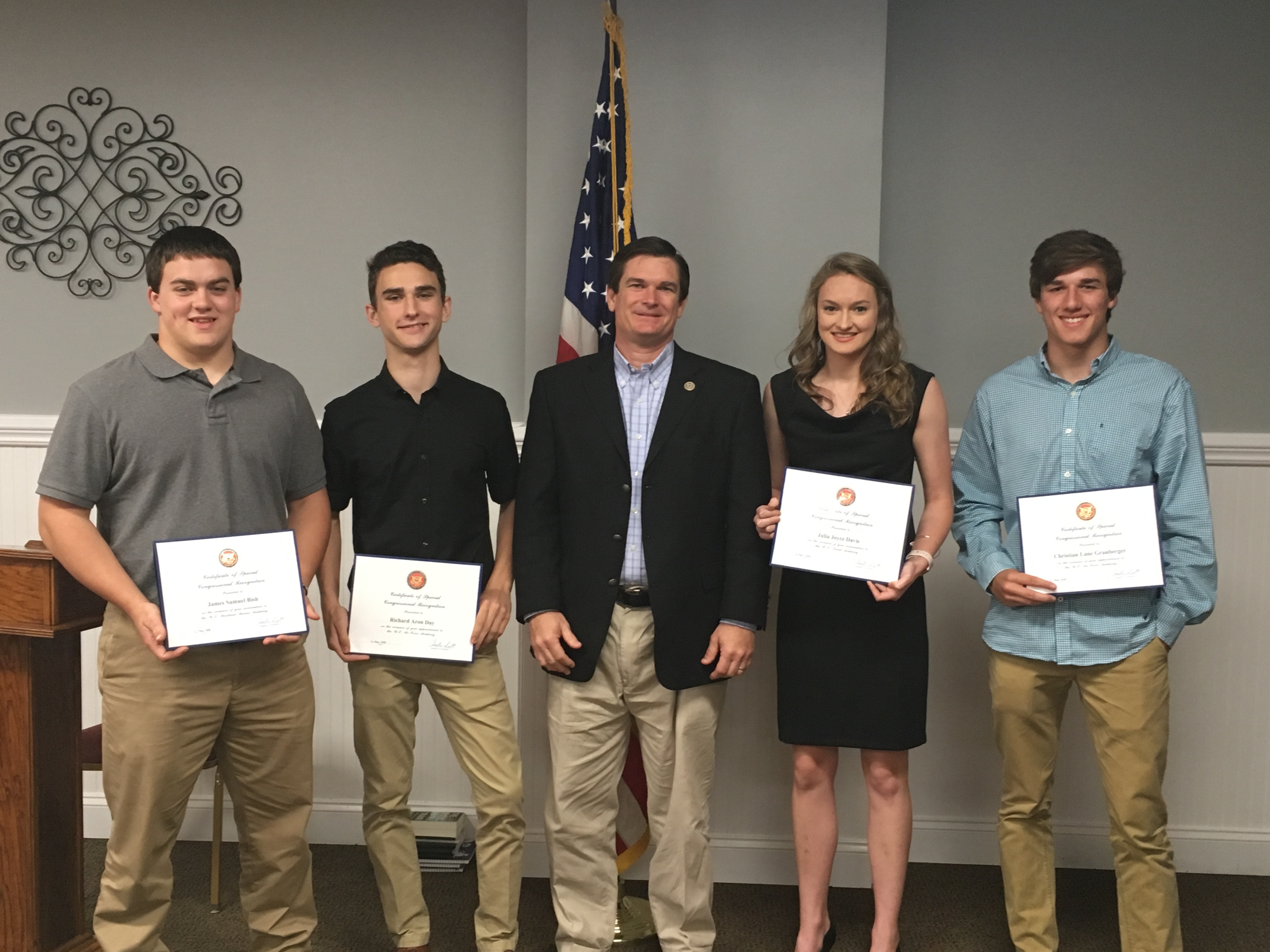 Pictured from left to right: Sam Bish, Richard Day, Rep. Austin Scott, Julia Davis, and Christian Grauberger
The following students have received appointments to the following service academies:
United States Air Force Academy:

Richard Day from Warner Robins, GA
Christian Grauberger from Eastman, GA

United States Merchant Marine Academy:

Sam Bish from Warner Robins, GA
Ian Blankenship from McRae, GA
Jessica Buchanan from Kathleen, GA

United States Military Academy:

Katie Kaiser from Tifton, GA
Tavores Pearson from Macon, GA

United States Naval Academy:

Julia Davis from Warner Robins, GA
Members of Congress may nominate candidates for appointment to four of the five U.S. service academies: U.S. Military Academy (USMA), West Point, NY; the U.S. Naval Academy (USNA), Annapolis, MD; the U.S. Air Force Academy (USAFA), Colorado Springs, CO; and the U.S. Merchant Marine Academy (USMMA), Kings Point, NY. The fifth service academy, the U.S. Coast Guard Academy (USCGA), New London, CT, does not require a congressional nomination for appointment.
For more information on the U.S. Military Service Academy application process, please visit austinscott.house.gov/services/military-academy-nominations.
-30-