Rep. Austin Scott Delivers Opening Statement at First Public Meeting for 2018 Farm Bill Conference Committee
WASHINGTON, DC – Congressman Austin Scott (GA-08), a Member of the House Agriculture Committee and Chairman of the Subcommittee on Commodity Exchanges, Energy and Credit, today delivered the following opening remarks at the first public meeting for the conference committee of the House and Senate versions of the Agriculture and Nutrition Act of 2018 (H.R. 2), also known as the "Farm Bill."
This is Rep. Scott's second time to serve on a conference committee for the Farm Bill. Written about every five years, the Farm Bill is our nation's primary agriculture policy tool. The current Farm Bill, the Agricultural Act of 2014, funds farm programs through 2018.
Click here to watch Rep. Scott's opening remarks.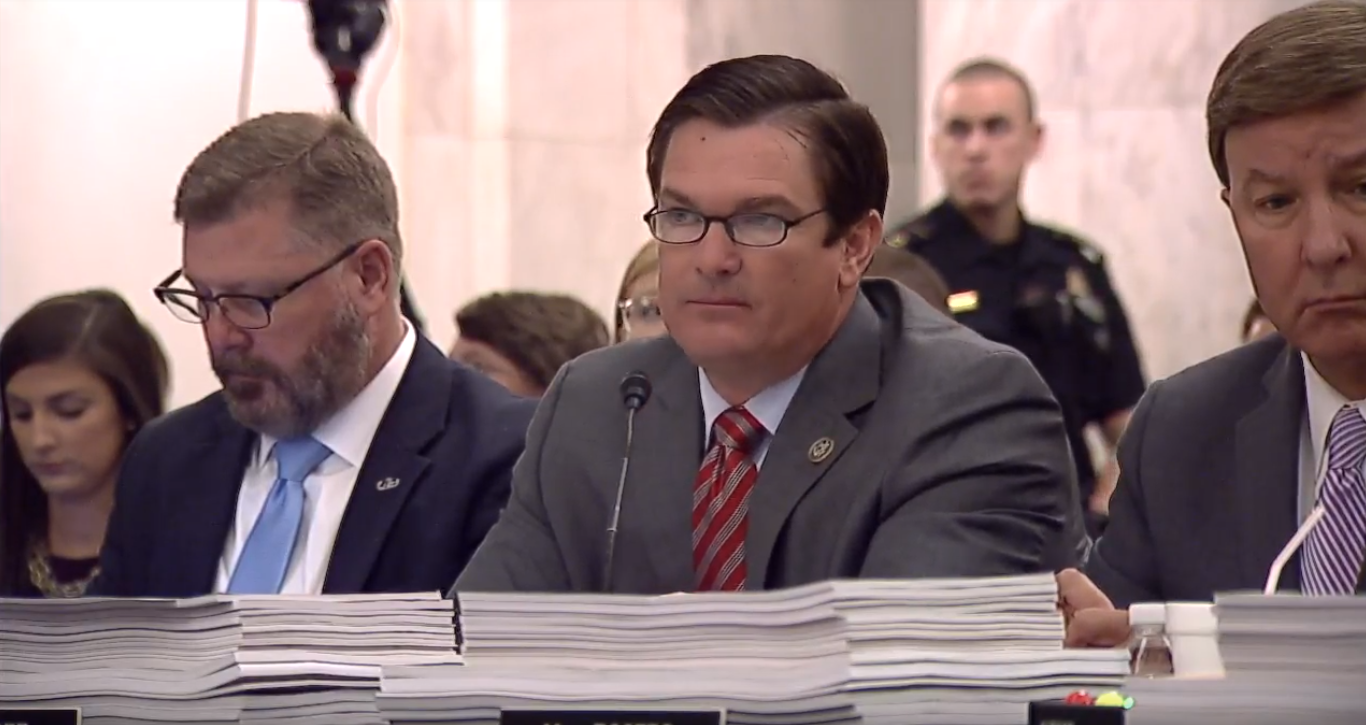 Rep. Austin Scott delivers his opening remarks at the first public meeting for the 2018 Farm Bill Conference Committee.
Remarks as prepared:
"Thank you, Chairman Conaway, Chairman Roberts, and Ranking Members Peterson and Stabenow. It's an honor to join all of you today, and to be a part of this conference committee.
"I'm confident that working together will result in a comprehensive Farm Bill that benefits farmers, ranchers, rural America, and all other Americans.
"Today, farmers and ranchers from Georgia continue their harvest operations without assurance of steady markets for the crops they have worked tirelessly to produce. Without the certainty of a Farm Bill in place, it becomes very difficult to plan for the upcoming growing season. The hard-working men and women who put food on the table for Americans, and the world, deserve a level of certainty. To achieve a Farm Bill that truly benefits the American people, I encourage my colleagues to look past party lines and embrace compromise.
"There are some key issues that I hope to see addressed in this Farm Bill.
"The first is ensuring producers have options when choosing between safety net programs. Farm income has fallen 52 percent since 2013, one of the steepest drops since the Great Depression. Farmers across the country have different needs and different risks associated with their operations. This legislation should protect farmers from massive losses caused by natural disasters, like the devastating freeze in 2017 for Georgia blueberry and peach producers, or other events outside their control. Furthermore, the Senate language for the definition of 'actively engaged' will hurt family cotton and peanut farmers in my district. We don't need to seek ways to harm those that are trying their best to maintain a family farm.
"Secondly, SNAP is a critically important resource for families that are struggling, but it is long overdue for changes to the structure and culture of these programs. Currently, recipients are stuck between a rock and a hard place. The legislation drafted in the House includes commonsense changes to the existing policy which offers a true pathway off the program. These changes benefit local economies, recipients, and their families. Allowing recipients access to knowledge and skills necessary to maintain employment and rise above their current situation. These reforms help meet the intended goal of temporary assistance, while also helping those they serve onto a path of self-sufficiency and earned success. 
"We have 10 million able-bodied adults—able bodied; not disabled; not elderly; not those caring for incapacitated persons or children under the age of six—who report zero earnings. We should want to equip those Americans with the tools to climb the economic ladder in this strong economy rather than continuing to exclude them from an expectation of work and the necessary services that support them in their journey to financial independence. 
"Finally, the digital divide caused by inadequate or a lack of broadband services has hampered innovation and job growth. Rural communities are suffering from higher prices and lower speeds for broadband services, which is largely due to overbuilding infrastructure in some areas while neglecting others. While our economy continues to boom, many industries seek locations where there is robust broadband infrastructure, overlooking the hard-working men and women in rural America and leaving them behind. It is crucial for rural economies, healthcare, and education programs that this farm bill includes legislation to improve rural broadband.
"We need a Farm Bill that addresses all these challenges. This is our opportunity to provide the needed certainty and support to our farmers and provide commonsense reforms that will support the President's agenda of achieving prosperity for all Americans. Passing a strong Farm Bill on time is key to this goal.
"I look forward to negotiating a final package with my House and Senate colleagues that work for our nation's farmer, ranchers, and producers."
-30-