ICYMI: Rep. Austin Scott Conducts Oversight of Redistribution of Excess Military Equipment
Yesterday, Congressman Austin Scott (GA-08), a member of the House Armed Services Committee (HASC), participated in a Readiness Subcommittee hearing continuing oversight of the transfer of excess military equipment to civilian law enforcement agencies.
During the hearing, Rep. Scott pressed Mike Scott, Deputy Logistics Operations Director of the Defense Logistics Agency (DLA), on a recent report released by the Government Accountability Office (GAO) detailing weaknesses in DLA's equipment transfer program. In its report, GAO details their creation of a fictitious federal law enforcement agency to secure access to DLA's online equipment-transfer portal. After obtaining access, GAO was able to secure over 100 items with an estimated value of $1.2 million from the agency, highlighting serious security and control concerns of the program.
During the hearing, Rep. Scott also stressed the important of the program for providing local law enforcement tools they need to combat crime in their communities. He referenced one Sheriff's Deputy in particular who he knows closely whose life was saved by bullet proof glass in a BearCat vehicle he was operating. Had he been in a patrol car, Rep. Scott contends he would probably not still be alive today.
Click here to watch Rep. Scott's full remarks.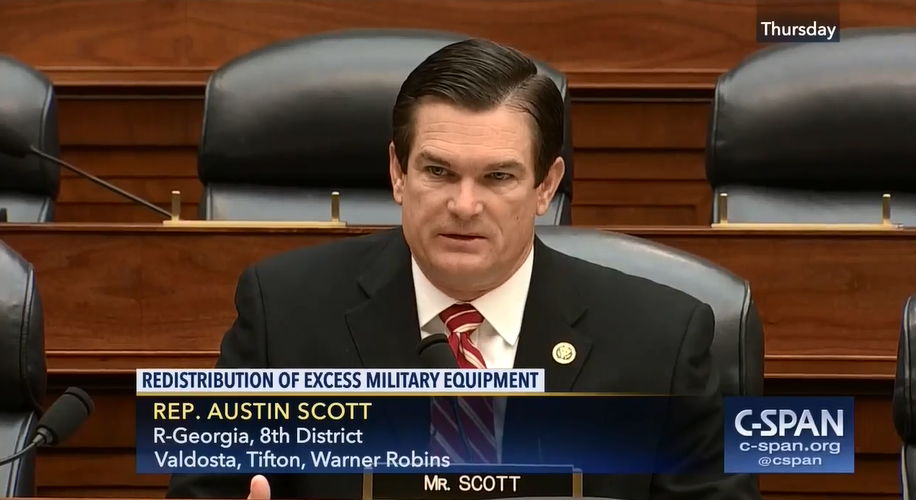 Click here for more information and to watch the full hearing.
-30-