Farm Bill Conference Report Heads to the House Floor with Rep. Scott's Support
WASHIGNTON, DC – Congressman Austin Scott (GA-08), a senior member of the House Agriculture Committee and Chairman of the Subcommittee on Commodity Exchanges, Energy and Credit, today released the below statement after yesterday signing the Conference Report to the 2018 Farm Bill, sending the bipartisan, bicameral legislation to the House Floor to be voted on by the full Chamber.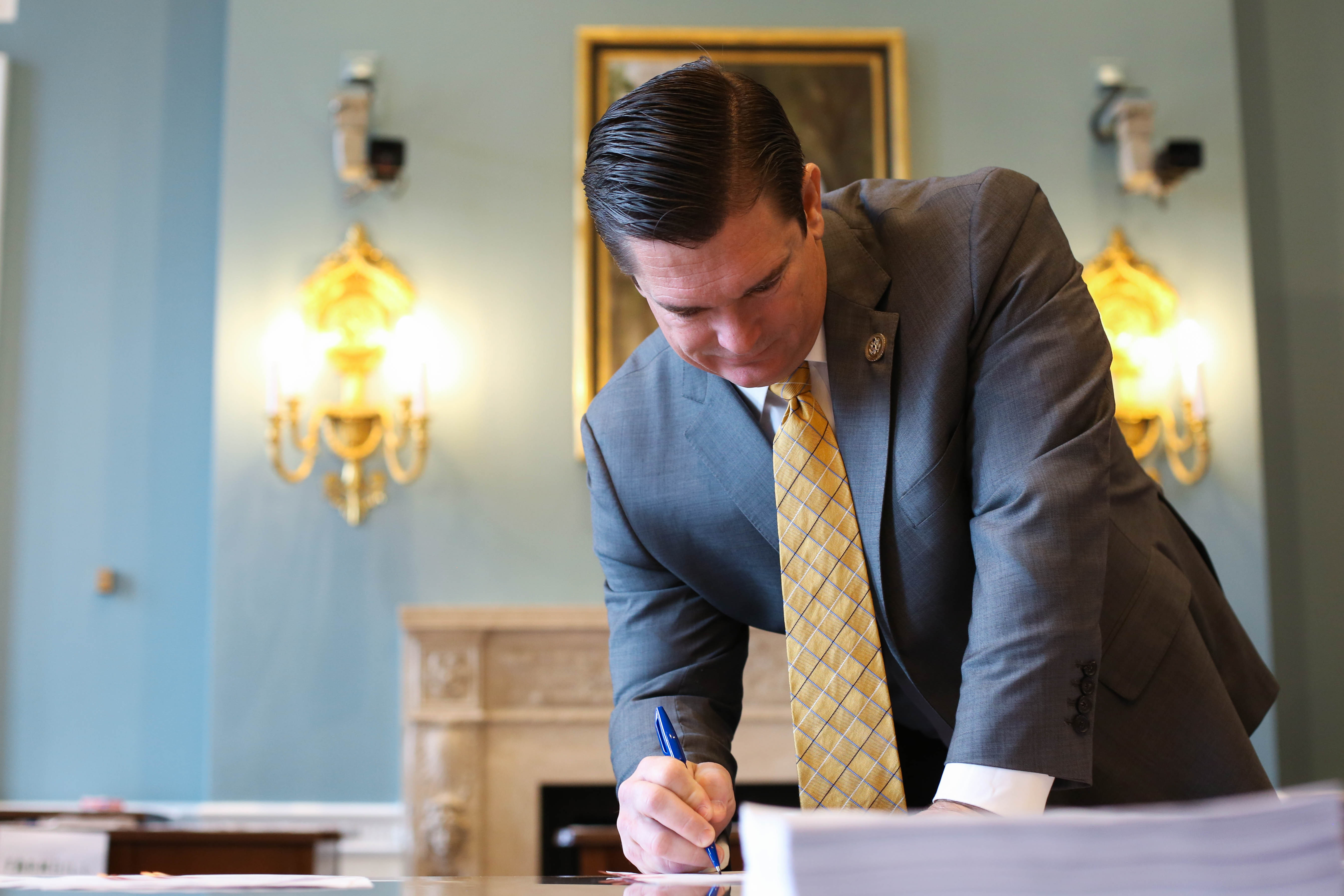 Rep. Austin Scott signs the Conference Report to the 2018 Farm Bill.
"It was a privilege to sign the Conference Report to the 2018 Farm Bill yesterday. Drafting a new Farm Bill has been a long process involving countless meetings, hearings, roundtables and site visits, and I am glad to see our nation's ag policy on the cusp of major reform for the first time in nearly five years. I am confident that this bill delivers the necessary policy our farmers desperately need to keep our producers and rural communities growing and innovating for the 21st century," said Rep. Scott. "I will continue to press my colleagues on the importance of our farm communities and rural America and will advocate for this bill until it passes both Chambers and is sent to President Trump to be signed into law."
Through negotiations, Rep. Scott was able to maintain the current commodity policy provisions for peanut producers, maintain the commodity policy for seed cotton, improve and expand credit for farmers, and prioritize research and development of additional risk management policies for specialty crops like peaches and pecans.
Included in the major legislation which contains annual spending for the Department of Agriculture (USDA) and provisions concerning crop insurance, rural development, specialty crops and research, extension and education programs, were two amendments offered by Rep. Scott to bring modernization and accountability to broadband services and spur broadband infrastructure investment in rural America.
This is Rep. Scott's second time to serve on a conference committee for the Farm Bill. Written about every five years, the Farm Bill is our nation's primary agriculture policy tool. The current farm bill, the Agricultural Act of 2014, funds farm programs through 2018.
You can click here to read the full text of the report.
-30-